"Why doesn't your compass work?"
"My compass works fine."

MY COMPASS JOURNEY HAS BEGUN
An Image most of us are very familiar with and attempt to emulate!

While exploring with near obsessive fervor for what I desire most, the best possible inaugural Jack worthy effects a humble pirate can find, the most recent days of deeply concentrated digging have once again paid off with special treasures that I can now explore further opportunities with!  Two of those treasures are featured here and others arrivals are, or shall be in time, shared in there respective categories!
After days of researching and exploring EBay, Craigslist and other sites for a certain directional assistance device, one which can reveal to us that which we desire most, I awoke to begin a new day of said treasure hunting!  I started my morning coffee and sat down to perform what is now a routine morning net check for pirate diamonds in the rough.  I had been concentrating my quest on the compass over the last week or so.  Up until that day, I had found what appeared to be a couple rouge toy JS compasses on Craigslist that were intermixed un-extraordinarily amongst now defunct piles of kids toys.
An example of searching outside of the box, or inside of the box as it were - this one for a lot of POC Legos and random toys for sale - the little brown box is most likely nothing of consequence, but is cause for one to keep pressing forward on the quest!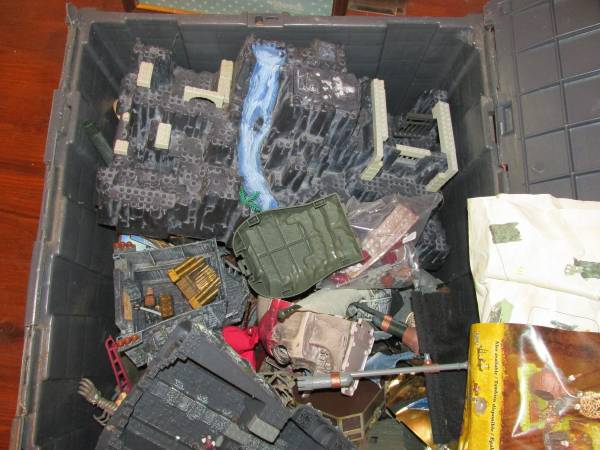 The rush of excitement in looking at rudimentary photos of piled up pirate toys in boxes or on the floor and seeing a little black box is addicting when you know your searching for, and have the potential to stumble across, a plastic treasure that is relatively rare on the open market these days (as opposed to the uninteresting and completely inaccurate versions like mega blocks) - I was searching mainly the Zizzle and Disney Store Compasses for modification  - like finding a plastic nugget of pure gold - yet, nothing concrete had surfaced...yet!  
On this particular morning however - things were about to change.  After getting no responses from those I attempted to contact on Craiglist for clarification photos regarding the mystery boxes that, thru the powers of deduction and visual forensics, appeared to be Jack related, I decided to head to EBay and see what the seas may have washed up.  In the days prior, I did see a couple prop compasses on EBay that did not interest me in any way - inaccurate and/or unrealistically priced props for my taste and simply not the version I desired i.e. Curse of the Black Pearl - an even more difficult example to find in any commercial form, more likely an one of or limited run custom build - however I digress.
THE RARE COBP COMPASS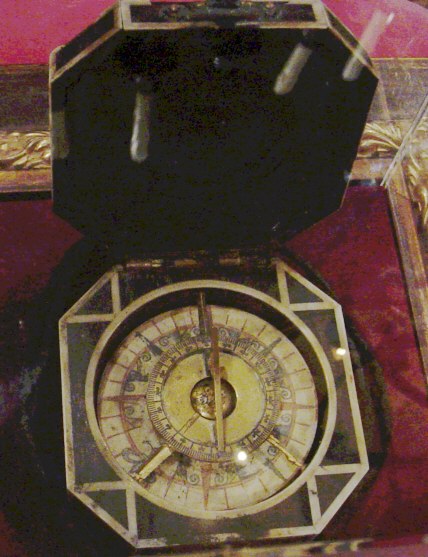 As opened up EBay and proceeded to type in the typical key words in the search engine, I got the standard issue lot of Disney pins, current inaccurate toys, necklace pendants, and the two compass props that, as I stated, where not of any interest to this rather particular pirate.  On this day I decided to switch things up a bit and type in words like "toy" in conjunction with my usual key words.  When the list of items appeared I jumped back in my chair a bit, at what I saw.  Not 1 but 3 Zizzle compasses being sold on EBay UK that HAD NOT shown up on any of the other typical "Jack Sparrow Compass" searches.  These three auctions had literally just been posted within the last 24 hours.  I went on to read about them and feeling encouraged, decided to watch the auctions for a couple days before making my decision.
The following morning I checked on the auctions and was actually ready to pull the trigger and click the "Buy it Now" on one of the Zizzles from across the pond, all of which were in great condition.  BUT there was yet another auction for a set of kids pirate costume items that had been used once and in the bottom corner of the photo (and not specifically mentioned in the auctions description) was a Zizzle compass.  I got in touch with the seller and advised that I was not interested in the other items, however, I was interested in seeing photos of the compass and asked if she would be willing to sell it in a separate auction.
In the mean time, while waiting for her response,  I performed yet another form of site searching, strictly images, that I use for reference and to find things that may not show up in auctions and sales without specific key words.  Typically this type of search leads to old or dead threads, ended auctions or out of date sale offerings like those for the Master Replicas compass from years past that can, from time to time, lead to grand delusions that one may have just found the holy grail.  However rare, there  are times when I find interesting leads.  One photo of a Jack Sparrow Compass prop popped up that was of interest to me and I checked it out.  It lead me to yet another series of photos and yet another that I clicked on - this one took me to an active EBay auction simply listed as "JACK SPARROW COMPAS EXACT REPLICA" The day was September 19th, 2014.  The auction had been up for a couple days but had oddly never shown up on any of my previous searches.  When I looked at the header I noticed that the seller had misspelled Compass as COMPAS - this may not have been the specific cause of the auction not showing up in previous searches for Jacks Compass, regardless, I was interested in the custom built prop listed for a Buy it Now price of just $40 and willing to entertain offers - described as:
"this is a resin cast of the studio size compass from the pirates of the Caribbean brass hinge and pewter string holder the compass does float on a pin great movie prop these do come assembled and painted .the one in the picture was used for the renaissance this is my personnel one hence the scuff marks the ones you will get will be clean"
Despite many obvious inaccuracies and being incomplete from the photos, and with the understanding that I was looking for a good base compass to then modify, I decided to make an offer of $30 to my amazement I immediately received a counter of $35 and boom, I pulled the trigger without further hesitation hoping that, at minimum, I would receive a solid base piece to mod and one that was an alternative to the toy versions.
Filled with anticipation for the days preceding it's arrival, the box landed about a week after my offer was accepted. I was all smiles

!

The first photo right after unpacking from the box - I could see a few obvious aesthetic imperfections.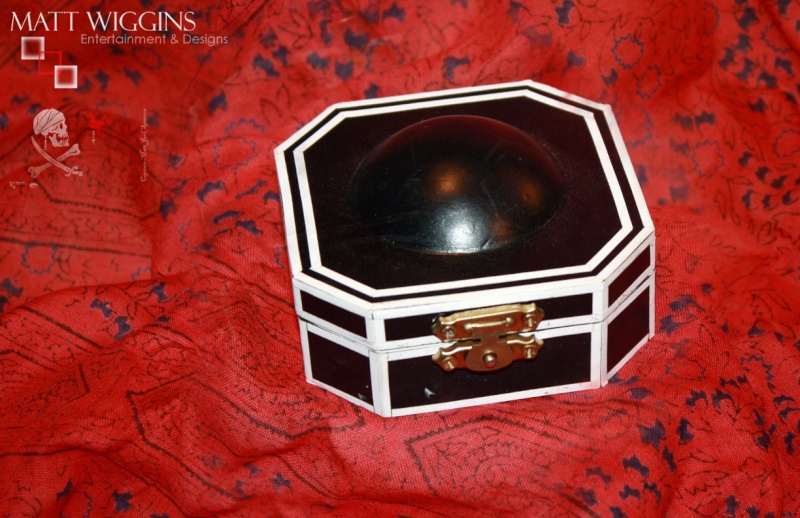 An perfectionist, I had to touch up the couple white scuffs on the exterior and proceeded to do so - despite needing work, it felt really good in my hands.

The first photo of the unfinished interior dome and guts and clear scuffs and imperfections.  I understood the incompleteness of some of the interior like the dome, the makeshift character of some of the "hardware" - but I did not understand all the scuffs and imperfections being present and IDENTICAL to those in the auction photo- below  

.
AUCTION PHOTO - You see the identical imperfections in the compass I received - which confused me when one refers to the description of receiving a "clean" version
I contacted the seller and advised him regarding my concerns and he apologized, stating that he was away on business when the compass sold and that his son was put in charge of sending me one of two compasses that he had partially completed.  I received the sellers personal compass rather than the clean version.  He advised me he I could send it back for a full refund or exchange for the other and I declined, stating that I was going to modify the piece anyway.  The goal is not to have a clean, perfect, jack compass anyhow - that would defeat the objective.
Compass in the Raw
In order to see if I would be satisfied using this as my base compass to modify I grabbed some paints I had and touched up a few things on the inside area as I did on the outside!

The incomplete piece in natural daylight

!
I see great potential

!
Clean pre-weathered exterior after a few touch ups here and there.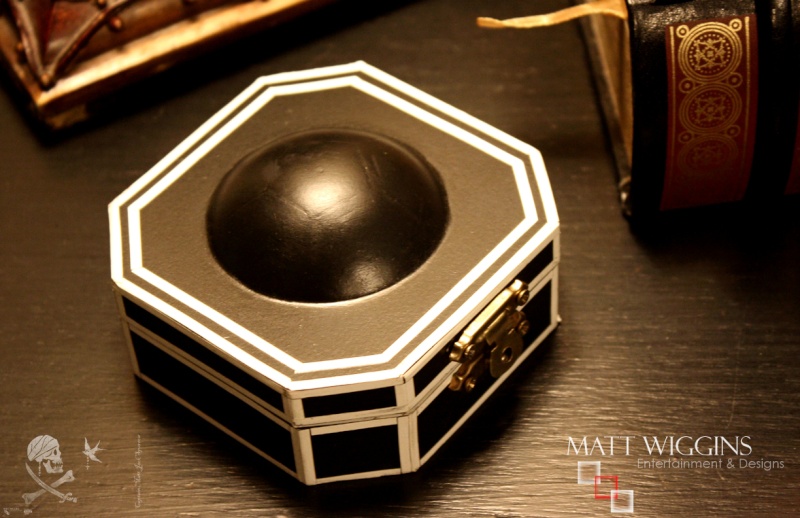 To take my vision for future modification a bit further, I painted the dial with gold paint for affect!

If anyone has advise on options for updating and modifying hardware for the interior and exterior chime in!  The current disc for the degree dial is paper laid over a thin metal disc - as is the printed Compass Rose. The Sundial and posts are wood and will also be replaced at some point. Any advise or sources would be appreciated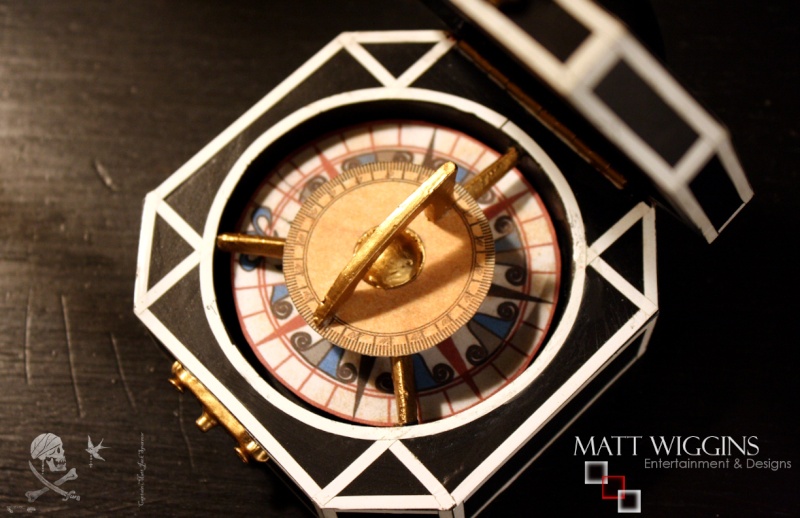 Another step in my initial "screen test" I took to weathering the trim a bit.


The incomplete prop did not come with a ring and the current exterior hardware (both front and back) is inaccurate and will need replaced.  Once again, information on this would be helpful

.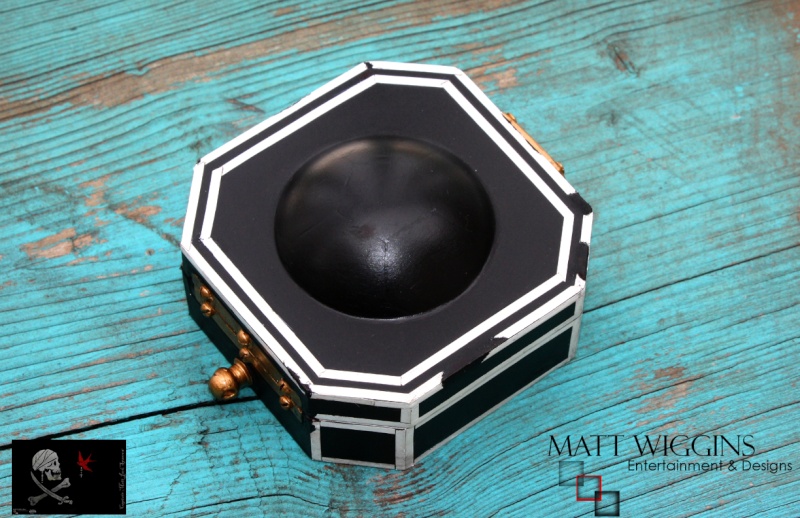 I am very excited to continue the modification process on this rather charming piece
.
Not a bad start on that which will point me in the direction what I desire most

!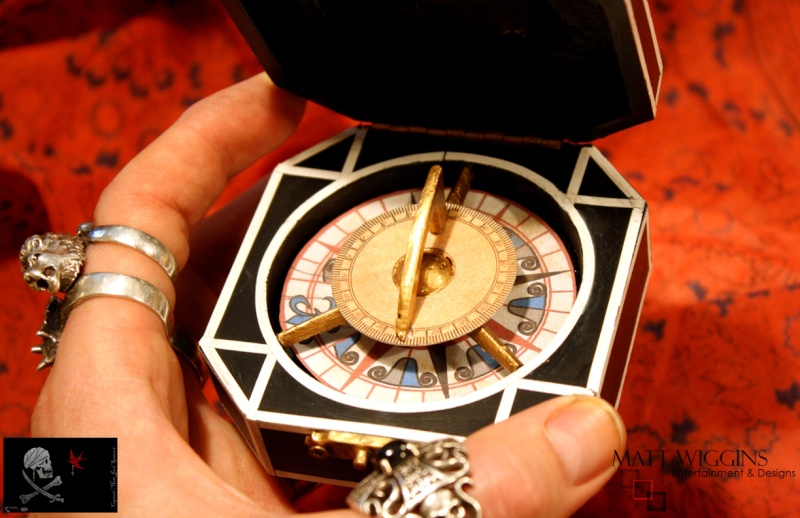 After having accepted my offer on the scratch built prop at $30 and being shipped, I was then contacted by the seller I contacted about selling me the Zizzle compass separate from the other items in her initial auction that ended with no bids.  She agreed and accepted a $5 offer.  I could not help but scoop that up as well.  The box arrived in 3 days

.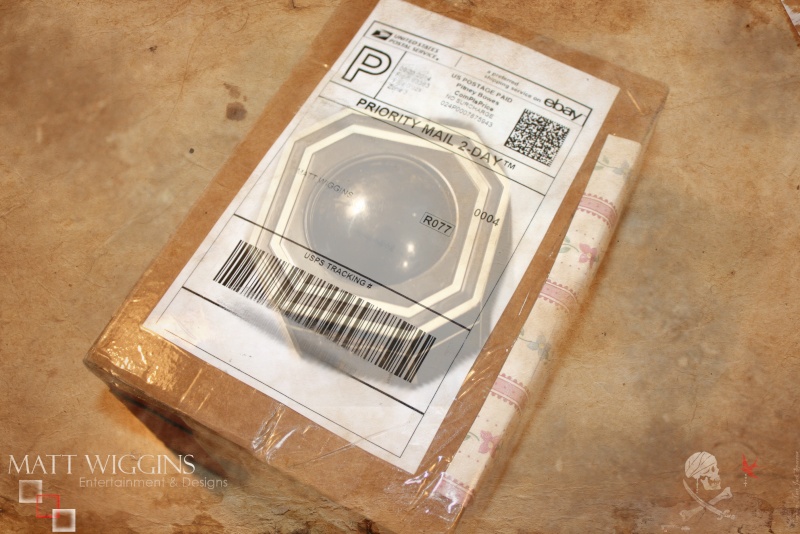 The prop and the Zizzle - obvious differences
I will most likely modify both of these pieces in time.
.  
I followed thru with the Zizzle, simple because I wanted to have more options to modify and work with.  These will most likely not be the last compasses I purchases.  If I had the equipment, I would love to do a scratch build myself - I see the process of fabricating or modifying a pre-fabricated piece and the resulting treasure as art to be appreciated and proud of.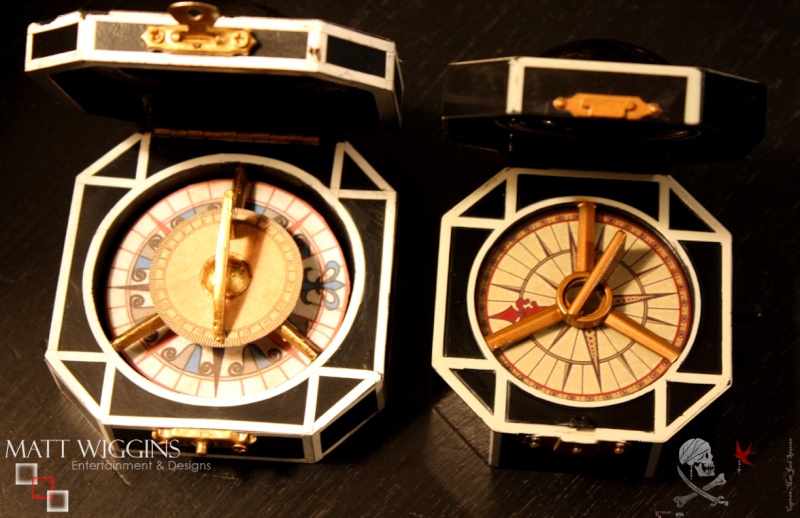 THE JOURNEY CONTINUES
Ballast Pig




Posts

: 70


Location

: MidWest USA




---
Permissions in this forum:
You
cannot
reply to topics in this forum