Ahoy gents -

Having had a recently determined that I am going piece together my own Sunflower and Anna Maria Belts and I am considering making my own Baldric as well (although unsure on the embossing process for the pattern at this time)

Currently thought, I am in search of SA Sunflower and Anna Maria buckles! From my initial searches, there are a number of examples available in varying quality, price, and accuracy. ACME "is back" and the buckles look pretty good. I also had a recent chat with Captain Cristian about his Sunflower Buckle and so forth. My own research continues and any advice would be much appreciated! I am not looking at any OST versions, I am working towards DMC/AWE.

Thank you Gents!



Last edited by Captain Matt on Sat Sep 13, 2014 1:49 pm; edited 1 time in total
Ello Captain Matt!
For the sun flower buckle, I'd probably go with Captain Cristian because ACME's current sun flower buckle is geared towards OST.
Then again there is this one:
http://www.ebay.com/itm/Jack-Sparrow-FULL-SIZE-belt-baldric-BUCKLE-AGED-LTD-QTY-/221281907660?pt=LH_DefaultDomain_0&hash=item33856df3cc
The buckle in that listing was originally ACME's(for DMC/AWE) but was then recasted by that seller. No bueno.
As for Anamaria's buckle, you can contact Vennowhisky on ebay
Not sure if there is anyone else selling part 2/3 version aside from Venno.
Best of luck choosing a sun buckle and hopefully this was helpful


Landlubber




Posts

: 114



The Sun buckle is the same as far as I'm aware for DMC/AWE/OST.     It can have a slightly misleading appearance because it's curved and not flat so will look a little different in many photos depending on how close up it is photographed.    The difference is probably more down to weathering and how you want it to look (how chewed up by the elements and how much verdigris you want on it)
Here are a few examples for example. I quite like the really aged one, althoguh it needs a little more brushing to get rid of some of the more ingrained verdigris.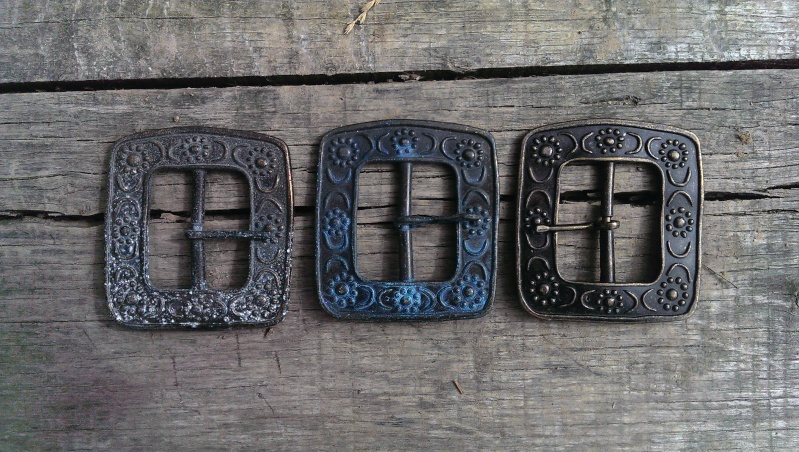 Cristian actually sells my buckle (and I sell his OST AM buckles) - we just have each others in stock.
The only DMC/AWE "AM" buckle available is the one that Venno sells (and I have a few of too if you want), however they are very brittle, so you need to be very careful with as they are prone to shattering if you drop them.     Mind you they are dirt cheap so you get what you pay for here!
Pirate Lord





Posts

: 204


Location

: UK



Thank you so much for the information, both of you!

Pregunta? Why is it that there are so few A.M. buckles out there that are pre OST? Are most guys moving forward with that look and disavowing the more original JS? I am simply NOT a fan of the new look - it it's entirety! That certainly not to say that I won't adapt my wardrobe into the more "modern" look, however, at this time I am still too attached to the "old" younger Jack.

I have been considering doing a post AWE / PREE OST look as well, in both the wig and the wardrobe/effects. Portraying some of the unseen story pertaining to his "in between years" as Jack begins to transition from AWE into the his chosen look for OST.

Regarding the Sunflower belt: I too enjoy a more vintage/rustic look! Not beat up, but well broken in! I hope to make my decision this week and move forward. It is going to take me a bit more time to figure out what to do about Anna Maria! I am certainly not interested in getting a buckle that is crap quality.

I would also enjoy hearing thoughts on the Baldric Buckle.

Thanks again mates!



For the baldric buckle, I'd go with Simon, his has the "curve" to it that I don't see with others.
Pirate Lord





Posts

: 2230


Location

: Texas



Ditto, go with Button It's buckle. It will contour nicely to your baldric
Landlubber




Posts

: 114



Absolutely. His Baldric is a thing of beauty (in a manly, pirate sort of way, of course!)
Bucko




Posts

: 440


Location

: Landlocked!!



Thank you for the information gents -

So it sounds like SIMON is the place to go for the Baldric buckle and I will look into that!

Can any of you offer your thoughts on the baldric itself - and then replacing the lesser quality buckle.

The leather baldrics online with the embossing are very expensive. There are others available at various prices of course, however, none of them have the emboss. Having not started the research on that process myself, do you have any information on a DIY method to purchase a good quality baldric and emboss it or an emboss look?

I am prepared to make my own Baldric as well, however, the embossing/emboss look, is the most pressing matter regardless, unless I shell out $250+!
I believe that there is a vinyl leather look material out there that some have used to make their baldric with the right pattern on it, although obviously it's not leather.
Also, particularly with something like the baldric, if you're wearing it with a real sword is something that you want to be comfortable too, so the fit, softness of leather and cut of it are things you want to consider too, as well as how it looks.    You can't really see this so well online.  
Personally I'd advise layering up leather on top of the vinyl if you go that route, using a latex based PVA glue to maintain flexibility, but giving it a nice sturdy weight which helps with the balance if carrying a plastic or lightweight sword and then you fully bind it with a soft leather afterwards which means that it feels relatively soft against the body.    Here's a profile of mine so you can see what I mean.
I also dye the leather to suit whichever film look you're looking for - DMC/AWE is a little more reddish brown than OST.
Pirate Lord





Posts

: 204


Location

: UK




---
Permissions in this forum:
You
cannot
reply to topics in this forum