A Gorgeous day/morning/afternoon/evening/night to you gentleman of the seas  
 and lovely ladies  
Yesterday (8/30/14) I had the opportunity venture on a little side trip with my supportive girlfriend to a port near Old West Des Moines called Valley Junction which has a number of cool stores dealing in antiques, novelty items, art, vintage clothing and perhaps even some vintage rum.  As I work on commandeering the necessary treasures to create the wardrobe and wig I am designing, there were 2 stores specifically that I wanted to check out that deal in beads and stones!  I relish perusing this kind of store for diamonds in the rough as it were, and although the odds are low in finding Jack items, given the rare nature of the genuine Jack items many of us seek to create our second identities (or first, that was indeed my mission! The result of said treasure hunting: Not one, but both eclectic stores revealed successfully motivating experiences - each one very unique and for different aspects of the wardrobe! On the grand scheme of specific finds were not dramatically rare events, however, in my own adventure, they are very special ones, as this entire endeavor is special and meaningful to me!
As I was perusing one of the bead stores, I stepped into a back room where she had a number of pewter beads.  As my eyes scanned the lovely display, I was struck by something that was neither a bead nor bead related, yet very familiar looking in my ever consuming Jack investigations!  I gasped when I picked up the package and saw a small sealed bag of genuine pewter 5/8 buttons identical to those used on Jacks waistcoat and not the silversmith JHB brand. The JHB version in either 7/8 and most certainly 5/8 are becoming harder and harder to find, and I was very curious about where the store got these non JHB 5/8 pewter beauties.  The owner, who took great interest in my Jack adventure, advised me that her husband, who co-owns the store and travels all over working with dealers from around the world to acquire the wonderful supply of beads and stones within the gorgeous store, found these non bead related buttons on one of his recent trips and hand picked them to bring back to little Des Moines, IA!  It must have been the Pirate Gods working once again that brought me into that bead store on that specific day and compelled me to walk into that back room as I was in search of rare beads for the genuine Kuchi Dangle I am absolutely determined to create - only to find a few bags of pewter BUTTONS mixed randomly in with the beads.  After a couple close examinations of the details on the buttons and asking myself, can this be possible, I jumped ALL OVER the opportunity to commandeer  these rare treasures with that rush of excitement that might as well have come from me stumbling upon the Titanic!  LOL It is so cool - the simple things in life that get us all excited and motivated to keep pressing on!  Ahhhh here's to adventure Gents
Here they are - treasure doesn't always come in silver and gold, now does it mates!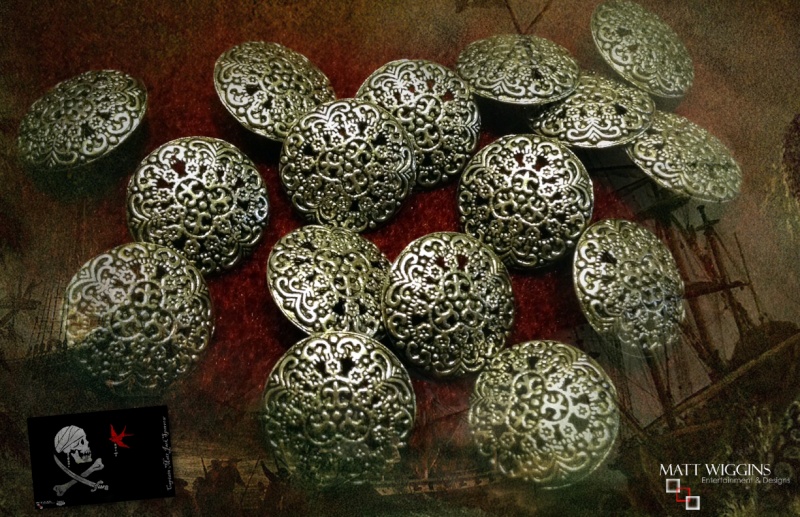 You can see the other simple treasure I found under the category pertaining to the wig.  
Enjoy the energy in your week! It's going to be an awesome one!
Ballast Pig




Posts

: 70


Location

: MidWest USA



Pirate Lord





Posts

: 204


Location

: UK



Thank you Button It! I am all about the details!
Enjoy the adventure in your weekend!
Ballast Pig




Posts

: 70


Location

: MidWest USA





Similar topics
---
Permissions in this forum:
You
cannot
reply to topics in this forum