THE ONE PACKAGE - AN EPIC TALE
Ahoy fellow Salty Dogs and Gentleman of the Sea  
Last night, I arrived home after a sea drenched adventure aboard my trusty horse.... steed...., SALVATORE, as we made our debut appearance in the Iowa State Fair Parade.  It was a deliciously, maddeningly wet adventure, however, what followed was just Frocking mind bottling and has Jack's/ My heart racing!  Let me give a bit of back story if you please Gentleman.
The full scope of this update to all that is, was, and ever shall be my adventures regarding, but of course, not limited to, THE ONE COAT, began a couple weeks after I found, what I felt...feel....would be a more than acceptable material to use in the construction of Jack's Frock.  The fabric was located at, and eventually found in, HANCOCKS fabric here in Des Moines.  The original material I found (which I posted some pics of in a previous post) is a silk linen tweed in a very lovely shade of slate/blueish grey with a slight sheen on one side and a more mat finish on the reverse side.  I was planning on using the reverse side for the coat - (and, after closer inspection last week at the store - it DOES NOT have any brown fibers in it).
High on the discovery of this fabric and from whence the energy was still flowing, I was considering a purchase of 6 yards of said material, however, as detailed and particular as I am, I wanted to be sure (for it is an endeavor that would require a substantial stash from the treasure trove at $25/yd) that it was, indeed, the direction I wanted to go.  
FADE IN
INT: STARBUCKS, WEST DES MOINES, IA - MORNING (7/31/14)
Matt looks excited and refreshed after 4.5 hours of interrupted sleep as he sits at his "usual" space ready to take on the days opportunities and challenges.  
As I sat there in "my office" at one of the local STARBUCKS, enjoying some inspirational tunes on my "Epic Soundtracks Channel" on Pandora and savoring the first taste of Chocolate and Espresso Whip cream off the top of my highly "Mattified" (as it is known) Venti Iced Americano -  I pulled out a small piece of paper that said, "3592516 Chintz Linen Grey".  It was given to me by a very kind ladie at Hancocks Fabric pertaining to the fabric I was considering for Jack's Frock.  I wanted to do a bit of research on the fabric and see if I could find it for less expensive, or something similar.  Sometimes the trip down the preverbal rabbit hole, begins so innocently - dam compass, or...blessed compass as it were...or could be!  
As it happened, within the midst of my research into the fabric I was considering, and all things Jack, with one thread leading to another, I stumbled upon the "Confessions of a Jackaholic"( jackaholic.pbworks.com )  as I am sure many of you have in the past.  There, I found an abundance of information, in's and out's and sort of's and not so much's (thank you to Shylaah), good information, to add to the good, and some not so good, information that is out there pertaining to our adventures in Sparrowizing, or the Sparrowization OF ones self or A PART OF ones self(s).
Since my days research began with the Frock Coat design, I clicked on Shylaah's link to said coat! One click and then another and then.... needless to say, the rest of my day and evening were CONSUMED!  
Much of my time was spent looking at, reading about, look at again (zooming in and out), absorbing every single detail of the design and history of the original coat(s).  I have been fascinated by costumes and their design for as long as I can remember.  From my time wearing uniforms at military college and during my affiliation with the U.S. Army and Navy, and more specifically, when I began my adventures in acting and music, and had the opportunity to participate in the costume selections and design elements for my characters, my fascination turned to full blown OCD, however, I digress - - sort of  
It goes without saying, or typing as it were (which, of course, I continue to do regardless) By the end of the epic days journey , all I could see, feel, smell, and taste (hell, we might as well toss hear in there too) was THE ONE - Jack Sparrow's Frockcoat!!! I had know idea just how MEZMORZING the sight, ENCAPSULATING the feel, FRAGRANT the smell, SWEET the taste, and JOYOUS the sound of the many voices crying out their VICTORIOUS battle cries, could be....................................when suddenly
FADE IN
A dream sequence begins filled with slow motion images of Captain Jack Sparrow as he engages in his many adventures -  (set to epic orchestral tunes/Hans Zimmer conducting)
FADE OUT
FADE IN
EXT to INT: the camera swoops in on the deck of the Black Pearl from above as fog passes and morphs to the interior of an eclectically decorated condo in West Des Moines, IA.
INT:  Matt's Living Room, West Des Moines - NIGHT 8/6/14
I arrived home late, soaked to the bone, from the successful ride on SALVATORE in the Iowa State Fair Parade.  On the sofa was a large and long cylindrical package that was wrapped in white plastic.  On the package, there were various labels, one that stated "Handle With Care". My heart raced with excitement as a smile spans the distance of my face!
I was expecting "THE ONE PACKAGE" to arrive as a result of the dramatic and inspirational events that occurred on Thursday and Friday of the previous week.  It was late and I had yet to eat dinner.  I had to rise before the coming dawn in order to prepare for the coming days adventure (8/7/14) and decided to delay the anextcipated perience of opening said package.  Not just any package mind you - THE ONE PACKAGE!
FADE OUT
FADE IN
INT:  MATT'S CONDO - MORNING - Yesterday (8/7/14)
We see Matt in his condo, ready to voyage forth, into the opportunities and challenges of the day. He walks towards a package that is not supposed to exist: THE ONE PACKAGE!
Like a kid on Christmas morning, or a modern day 17th Century Renaissance Man Pirate that just cannot get out of his fascination with all things related to, involved with, and therefore thusley associated in, a child like energy and curiosity for all things adventure, I woke up early and was filled with excitement as the moment was upon me!  I was about to unveil the contents of a package SO monumental, SO epic, SO....HUGEISH...it would put Blackbeard's richly fragrant and unkept beard to shame, THE ONE PACKAGE!  Why is it the THE ONE? , you may ask yourselves, well, for all intents and purposes, it is uniquely singular in it's existence, hence there is only ONE package like it from sun-up to sun-down from one sea to shining sea!  
   NO other place on planet earth, or any other sorted planetary nebulas of gaseous land masses and rocky outcroppings of vast seas or something to that effect, was another package being delivered just like this one - similar, possibly, but identical.........
Below are pictures of the contents of the package I received!  If nothing else, I am extremely excited and have a great sense of accomplishment in commandeering such wondrous fibers!
THE ARRIVAL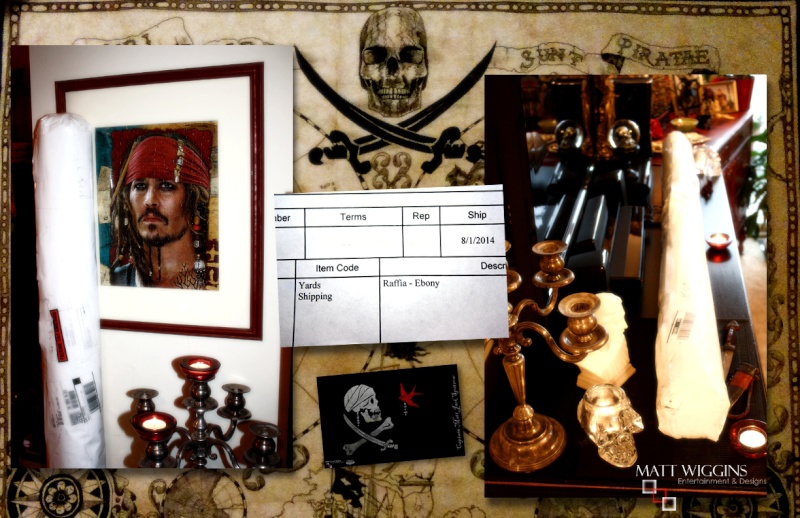 THE REVEAL:
AN IMPOSSIBLE FIND - OUT OF PRODUCTION SINCE 2010 - BUT WITH A PIRATES UNDYING DETERMINTATION TO FIND IMPOSSIBLE TREASURE AND GOD'S BLESSING


THE ONE FABRIC:  RAFFIA EBONY 903

A THING OF PIRATE BEAUTY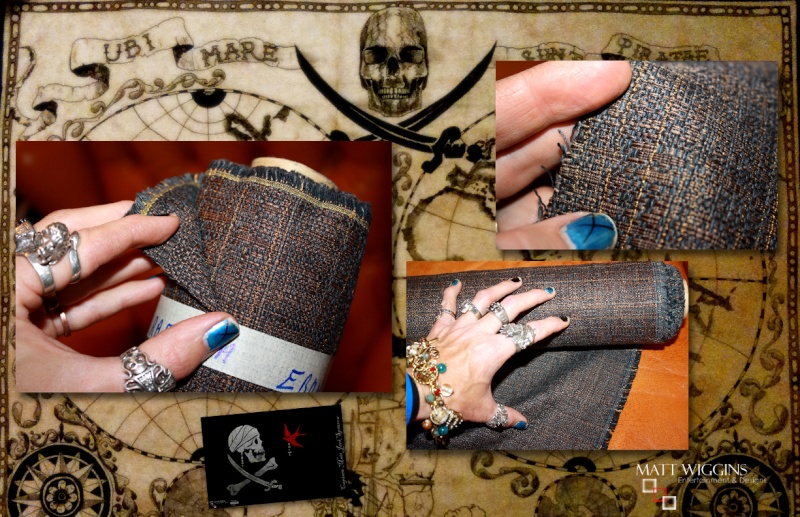 IT'S ALL IN THE DETAILS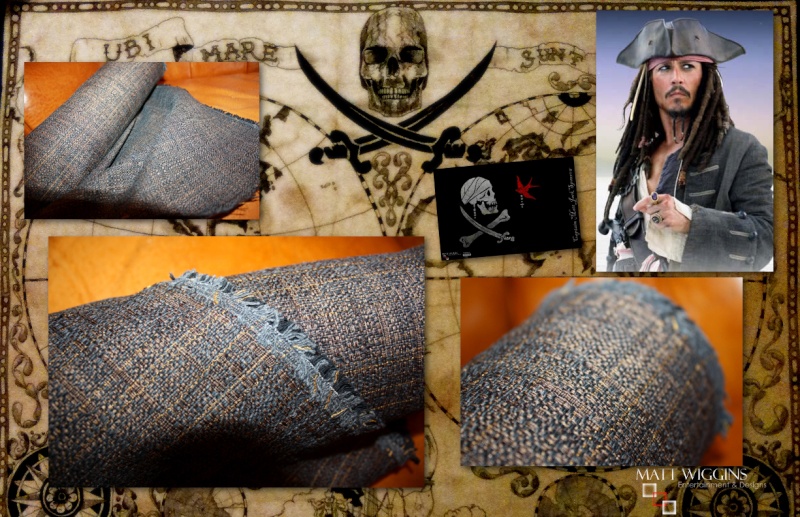 It goes without saying that I am in Pirate Heaven as I type this message!  The energy that comes from this fabric and just having it in my house sends chivalrous chills up my spine - It may be a bit dramatic for some it won't foster world peace, however, it is a pretty major discovery for me!  I can literaly FEEL Jack, the Pearl, the High Seas, the Adventure emanating from the rich and beautifully crafted fabric that will now be delivered to Donna (my seamstress) to begin work on fulfilling the detailed vision for Jack's Frockcoat and a special one at that.  I feel blessed and want to share in that blessing:     
AVAILABLE NOW EXCLUSIVLEY THRU MATT WIGGINS Entertainment & Designs - IN EXTREMELY LIMTED SUPPLY - CUT FROM THE LAST PROUDCTION BOLT (2010) OF PAUL KAUFMAN'S DISCONTINUED RAFFIA EBONY 903
I HAVE THE LAST KNOWN 58 YARDS OF P.K. RAFFIA EBONY 903.  I AM SELLING 48 YARDS OF THIS BEAUTIFUL FABRIC IN 6 YARD ALLOTMENTS, THOUGHT TO BE THE EXACT FABRIC USED TO MAKE JACK'S ORIGINAL COATS FOR COBP / DMC / & AWE
 THE FABRIC IS IN ABSOLUTE MINT/UNUSED/UNCUT CONDITION-!  BE ONE OF THE LUCKY FEW PIARTES ON THE SEAS TO BEHOLD AND COVET THIS TREASURE!  IT IS TRUELY RARE AND EXQUISITELY BEAUTIFUL!NOT ALL TREASURE IS SILVER AND GOLD!IF YOU ARE INTERESTED IN ORDERING ONE OF THE FEW REMAINING EXAMPES OF THIS MATERIAL FOR YOUR COLLECTION PLEASE EMAIL ME AT:

MATT@MATTWIGGINSENTERTAINMENT.COM
Ballast Pig




Posts

: 70


Location

: MidWest USA



How much for the 6 yards?
Mate




Posts

: 240



I don't know how you did it, but you did it! My hat's off to you, Matt  
I've spent a *
good
* amount of time searching endlessly myself
and have always come up short. I soon then stopped trying all together because all I found were close alternative fabrics.
Looking forward to seeing your coat w/ this rare beauty that I thought no longer existed  
Landlubber




Posts

: 114



Ahoy iJack -
It was an  
  adventure  
  that absolutely blew  
  me away when I heard, .... and I still can't believe the words are coming out of me mouth:  
"Matt, we have 62 yards of the 66 yards we purchased in 2010!" My heart rate was near cardiac arrest levels, the smile on my face was painfully broad, and I had to ask her multiple times
SO you have 62 Yards of the PAAAAAAAAAAAAAAAAAAAAAUUUL KAUUUUUUFMAN . . . . . . RAFFIA EBBBBBBBBBONY 9 **** 0 ***** 3  
LOL
Ballast Pig




Posts

: 70


Location

: MidWest USA





Similar topics
---
Permissions in this forum:
You
cannot
reply to topics in this forum