Page 2 of 2 •

1, 2

So I'm a little upset and pretty discouraged about this whole project.... the alterations people I went to are apparently hard of hearing and despite my reiterating exactly what I expected to be done three times AND I gave two photos with clear cut explanations, it's still not right.  

What they F'd up:
•Made the cuffs smaller and they were already too small
She says "Well if you make the sleeves closer fitting the cuffs have to come in or it would be out of proportion."~~~~~~~Are the sleeves in proportion in the photos I supplied?
•Put the buttons for the pockets literally under the flap, so you can't see them and only put three under each pocket  

She says"That's how buttons work and they wouldn't line up if I did five under each pocket."~~~~~~~~~~~~~~~~~Doesn't matter with fake button holes... and again was it like that in the photos? SMH
•Missed a couple buttons on the front despite having fake button holes to use for reference
She says "Oops, I can fix that right now." ~~~~~~pfft
•Now here is the kicker.... THEY PUT THE PLEATS ON THE SIDES  

I didn't even know what to say.
I decided to cut my losses and just take the coat home. I don't know if I can salvage the screen accuracy I was aiming for but I will try.
Our pup Hodor was trying to eat a button.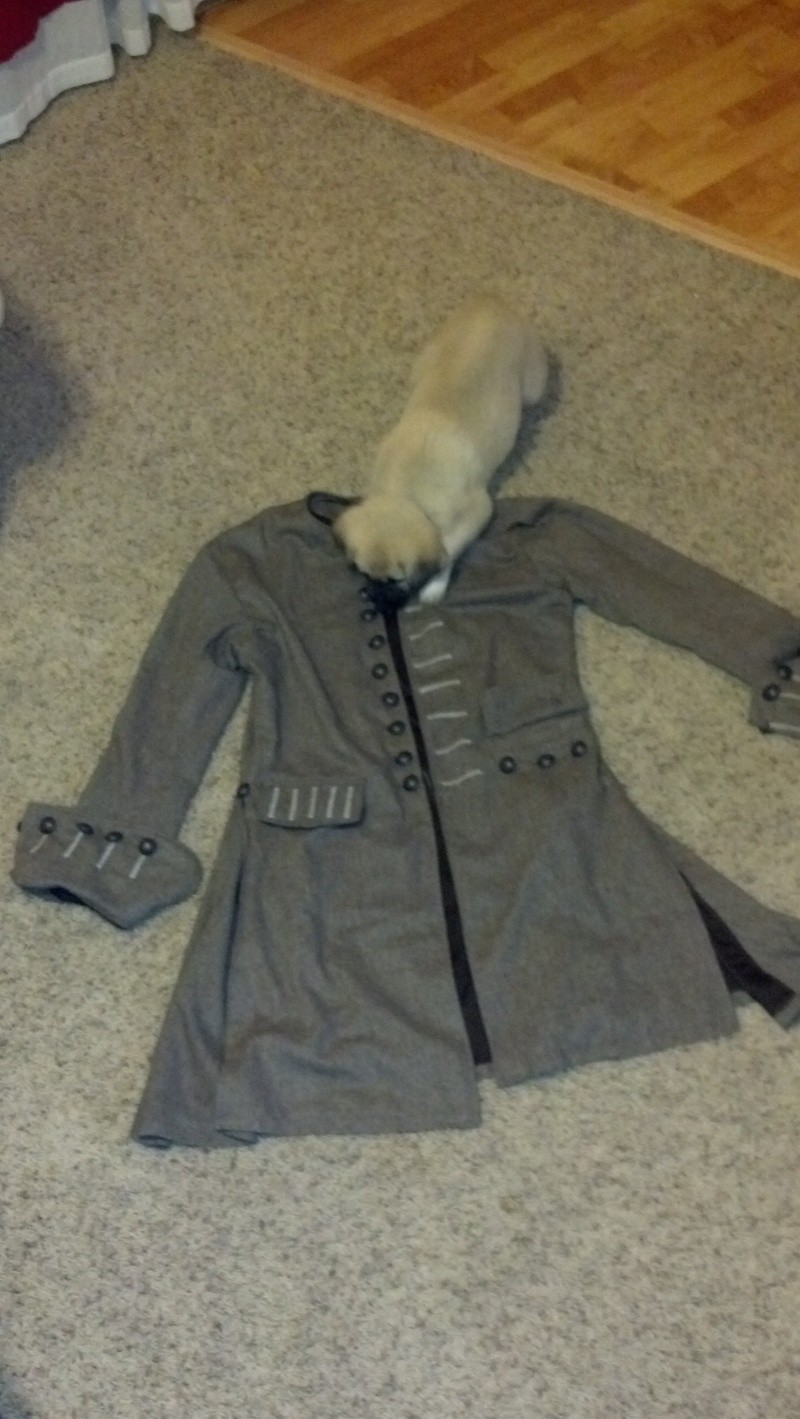 Notice the pockets and their buttons. Also as you can see no top button and no bottom but the rest line up perfectly... and yes I'm sure Hodor didn't eat em  ;-)
The cuff from both sides without adjusting.
They look ok but if only they were where they belong SIGH
My wife was good enough to model it while I captured the pics I wanted so excuse the "baggyness" it's way too big on her.
Landlubber




Posts

: 107


Location

: Wigan. United Kingdom



Mate,

It is so depressing when so called 'craftsmen/women' simply don't deliver what the customer wants! I have had similar experiences but not to this extent. I hope you manage to resolve it somehow.
Bucko




Posts

: 440


Location

: Landlocked!!



appreciate the empathy guys.
It seems in most cases the old adage proves true; "If you want something done right...."
Sorry to hear that! I hope you didn't pay them for it?

What's the plan now?
Jack Tar




Posts

: 279


Location

: North lincs UK



Yeah I'm too nice... I did get 30% off  
I look at it like this; quality work was done just in the wrong way... how my directions were conveyed to the multiple workers is unclear so they may have been following directions just not the correct ones. In other words I felt someone deserved something just not what was agreed.
Well after some consideration and time to cool down  

  the plan is to dye it, weather it, add the remainder of the buttons, wear it this Halloween (Maybe) and sell it.... at a loss no doubt as I'm $180 into it total.
You win some you lose some?
That is why you have to find yourself a "seamstress" and shower her with gifts, jobs, and commissions! It also helps if she is a costumer as well!!!!
_________________
I'm Capn_Jack_Savvy, savvy?
Pirate Lord





Posts

: 702


Location

: Somewhere between Piracy and Fantasy



Sorry to hear that it didn't go well
In one of your pics it actually looks like they took the pleating out. From the first pics you posted it looked like your coat already had the extra material for pleating, it just needed to be pleated and possibly moved to match the screen used coat. Looking forward to seeing how it turns out after you dye it though.
Mate




Posts

: 225


Location

: Racine, WI



Page 2 of 2 •

1, 2


Similar topics
---
Permissions in this forum:
You
cannot
reply to topics in this forum